Livable Communities – A Vision for All Ages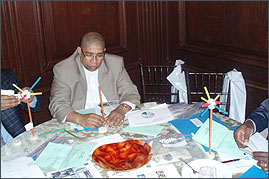 A livable community recognizes and reinforces the social and intellectual capital of its residents; highlighting these assets rather than needs strengthens people's confidence in their own capacities and builds alliances rather than dependencies.
The aim of this multi-year initiative is to identify the formal and informal assets that exist in the 43 municipalities throughout the county. Doing so will help create Livable Communities not only for older people, but for all generations. Local and national resources including the Asset-Based Community Development Institute, Partners for a Livable Community and AARP will be instrumental in creating countywide community visioning forums, community asset mapping and training sessions. By working closely with educational institutions, houses of worship, and civic organizations, this project directs the PPP's energies, and the myriad capabilities and talents of our older population, to partner, plan, and progress toward our most rewarding common ground — a livable community.
Our Livable Communities Program is designed to advance the initiative's main goal of enabling seniors to remain in their homes as they age.  It also offers volunteer opportunities.
Why are Livable Communities Needed?
Some 193,000 people age 60 and over live in Westchester County, or about one in five residents. This number will rise dramatically as the baby boomers age. People age 85 and older are the county's fastest growing sector of the senior population. Study after study shows that more than 90 percent of older adults want to continue to live in their homes as they age. Between 1990 and 2000, there was a jump of almost 25 percent in the 85 and older population – the group who most needs services to remain in their home communities. More than a quarter of seniors, mostly women, live alone. And, about 9,000 seniors live below the poverty level, with over 37,000 senior households having less than the income needed to afford the median rent.
Livable Communities Awards
The Livable Communities initiative has won many award from the National Association of Counties and the National Association of Area Agencies on Aging.  In partnership with AARP the Westchester Public/Private Partnership for Aging Services received international Livable Communities awards in a global competition endorsed by the United Nations. We were presented by LivCom, which sponsors the world's only international competition for Livable Communities projects.
Westchester County was one of the first seven members nationwide in the SSRP Network of Age-Friendly Communities.  Through AARP, it became a member of the Global Network of Age-Friendly Cities and Communities of the United Nations' World Health Organization.