Health for Life Program (HeLP) If you are over 60 with a chronic health condition or chronic pain, the free programs offers a sensible way to enhance your quality of life by showing you how to manage your health issues, including high blood pressure, arthritis, diabetes, pain, and depression.  Developed by Stanford University's School of Medicine, Living Well provides up-to-date information about the benefits of physical activity, healthy eating, and stress management, as well as proper use of medication and better communication with health care providers and family–empowering you to successfully manage your chronic conditions.
This six-week programs take place in communities throughout Westchester, at houses of worship, businesses, senior centers, housing developments, and noprofit organizations. HeLP offers a way to meet new people and share knowledge and resources, in order to learn innovative ways to address your health concerns.
HeLP is also available in Spanish.
Caregivers Coaching Program (L3C)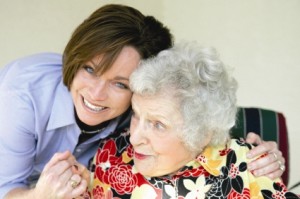 The need for caregivers is great, and it's growing.  One in five people in Westchester is 60 or older and more than half that population has a disability.  Yet studies show that the vast majority would prefer to remain in their homes with the help of a caregiver, if possible.  Caregiver responsibilities often come without warning or preparation–after a stroke or an accident affects a partner's functioning, for example.  Under all these circumstances, Caregiver Coaches are trained to educate caregivers, provide them with a supportive sounding board and options, and generally serve as stabilizing forces.
The National Alliance of Family Caregivers estimates it would cost the nation an annual $275 billion if the services of family caregivers were replaced with paid services.  Caregiver Coaches can enhance the quality of life for both caregiver and the person cared for, as well as save taxpayer money by reducing the need to move seniors from their homes into more expensive assisted living or nursing home facilities.
Support for Grandparents Raising Grandchildren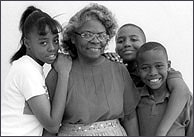 At a time in their lives when many Westchester seniors imagined themselves taking up a hobby or making a down payment on a cruise, some 5,000 of them are raising grandchildren on their own. Through the Westchester Grandparents Coalition, the PPP offers widespread support — both material and emotional — to these older adults, many of who traded retirement for one or even two jobs.
During the holidays and before the school year begins generous donations of clothing and school supplies are collected and distributed to the Grandparents for the children they are raising.
Items are donated by private individuals, corporations, churches, Back-to-School Clothes for Kids, the Department of Senior Programs and Services, etc. Through the Partnership, individuals and corporations also contribute a monetary donation to the Coalition to support events for grandparents/relative caregivers raising grandchildren ages 0 -18.
Equally important as the tangible goods are helping these seniors navigate what is often a complex maze of legal issues such as custody, adoption and other matters relevant to their situation.
Supporting Health and Wellness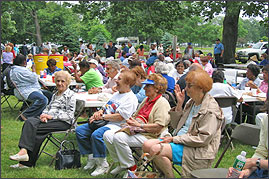 The Health and Wellness Collaborative represents community groups and organizations dedicated to addressing obesity, diabetes, high blood pressure, and other physical conditions that can be controlled through improved lifestyle choices and habits.
The "Eating Better and Moving More" program introduced in 2004 continues to flourish and offer classes focused on diet and exercise and presented in several communities by certified nutritionists of the Department of Senior Programs and Services. As a result, many seniors receive educational and fitness benefits from this program. Participants report that they are improving their diets and working out more.
During National Senior Citizens' Month in May, senior residents can look forward to at least two major events highlighting health and Wellness – organizations like the American Diabetes Association join with the Partnership to support these events. Because the Partnership welcomes diversity these programs are also presented in Spanish.