The Golden Harvest Awards Breakfast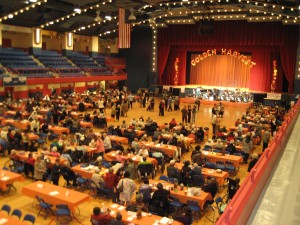 For 24 years, the PPP has recognized the stellar works of leaders in the aging network at The Golden Harvest Awards Breakfast. The honorees of this year's breakfast were VNA of Hudson Valley, Golden Harvest Corporate Award; The Reverend W. Franklyn Richardson of Grace Baptist Church, Golden Harvest Humanitarian Award and Barbara Finkelstein of Legal Services of the Hudson Valley (LSHV), Jim Curran Leadership Award. VNA of Hudson Valley has a long history of providing diverse health care services to the community. As outlined by President and CEO, Michele Quirolo "Allowing people to remain in their own homes is so important, but to provide this support, it takes collaboration and commitment".Barbara Finkelstein has been the Executive Director of LSHV since 1995 and is the first woman to head the organization. LSHV is the largest provider of free civil legal services to more than 600,000 poor and low-income individuals. The Rev. W. Franklyn Richardson is the Senior Pastor of the historic Grace Baptist Church in Mt. Vernon, NY. He has been the head of this vibrant,diverse, multi-staffed ministry since April 1975 and it now includes more than 4000 members. A longtime community builder and organizer, Dr. Richardson has played a pivotal role in the grass roots efforts of creating affordable housing and re-establishing a culturalbridge between community and education, especially in Mt.Vernon.
Salute to Seniors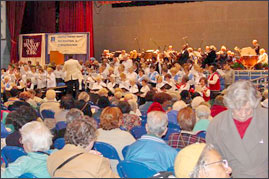 The 47th annual Salute to Seniors was held on May 6 at the Westchester County Center in White Plains. The theme for Older Americans Month "Get into the Act" came to life as a slide presentation recognized active senior programs across the county. The Salute also included a Health and Wellness Fair with free exams, screenings and classes provided by 17 health and wellness organizations. TIPS captured vital signs and educated attendees on health and social services. Fitness demos of Tai Chi, Yoga and a Recreational Drumming Circle got everyone moving. The 2000
attendees danced along with and enjoyed performances by the Famous Rat Pack: Frank Sinatra, Sammy Davis Jr. and Dean Martin impersonators. On stage entertainment also included Uptown Funk "Oldtown Cover" by Alex Boye and the Dancing Grannies. More than 90 businesses, organizations and government agencies specializing in products and services for older adults and caregivers including assisted living facilities, home healthcare providers, legal services and financial firms were available to seniors.A representative from the Office of New York
State Comptroller searched for unclaimed funds for attendees. There's something for everyone at this great annual event.