SMART (Students and Mature Adults Read Together)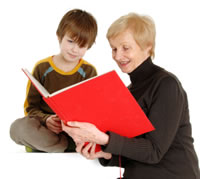 SMART is a model intergenerational literacy program that utilizes the largely untapped resources of older adults to benefit the youth of Westchester.
SMART, sponsored by the Jewish Council of Yonkers takes an asset-based approach to senior involvement in the community. Older adults tutor and mentor students who are reading below grade level. Such mentoring relationships have been proven to stimulate students' academic interest and commitment, and to foster socially responsible behavior. Through the establishment of a nurturing relationship, and with the guidance of a positive role model, success within and outside of school is more attainable for these students.
SMART creates an environment that fosters achievement and creates a pattern of success and independence throughout life. In 2006, seniors in the SMART program volunteered in two Elmsford Schools, three Mount Vernon schools and twenty-seven schools in Yonkers.
Care Circles of Westchester
The Care Circles of Westchester: Step Forward and Give Back program provides family caregivers with information to coordinate help for their loved ones from volunteers, who share in caregiving tasks.
The program is part of the Livable Communities: A Vision for All Ages – Bringing People and Places Together initiative. It is sponsored by Westchester County's Department of Senior Programs and Services (DSPS) and the Westchester Public/Private Partnership for Aging Services.
A care circle is a group of volunteers who assist an individual – perhaps a very elderly person – with the basic needs of daily living that cannot be met with public funds. These needs may include pitching in to do the laundry, giving rides to the doctor's office, walking the dog or simply providing companionship.
Fewer and fewer caregivers are available to help care for Westchester's growing senior population, and care circles are a way to recreate the physical and emotional support families traditionally provide.
A key goal of the Livable Communities initiative is to enable seniors to continue to age in their homes and communities. Care Circles of Westchester volunteers directly advance that goal.
"We're delighted to start our Care Circles of Westchester initiative, which we know will grow over the years," said DSPS Commissioner Mae Carpenter. "Care circles make communities stronger."
For more information about the Care Circles of Westchester program, contact Colette Phipps at (914) 813-6441 or cap2@westchestergov.com This email address is being protected from spambots. You need JavaScript enabled to view it. .
For a list of websites containing advocacy and education resources click here